My ITXpert – Support Features
Refer Friends & Family – Save Even More!
Tell your friends! For every person you refer to us that signs up for the annual My ITXPert plan, you'll save $10 on your next renewal! Refer 5 people? Save $50! Just have them mention your name or email us.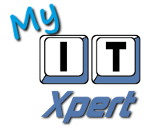 Frustrated with your PC? Now you can have your very own IT Xpert to help keep your PCs up to date, secure, and running smoothly all year long! With the My IT Xpert support service, our Xperts can monitor the health of your PCs, drastically reduce boot time, keep them up to date/secure, and heal common application crashes or hangs. We can even login remotely (ONLY with your permission) to help you with problems.
With a current subscription to any My ITXpert Service package, our technicians will:
For Windows 8 Users – hide the tiles and give you your Start Menu back!
Reduce your PC's boot time by selectively disabling or delaying non-critical start up programs
Speed up your web browser by disabling unused extensions and add-ons
Search for solutions to 'frustrations' reported automatically by your PC, including application crashes or hangs, and install them for you
Run many routine maintenance tasks like disk defragment, disk cleanup, and others
Monitor the health of your PC hardware (disk usage, internal temperature, battery condition)
NEW! Login remotely to assist you with problems you may be having with your computer
Ensure many common applications are at their latest version for stability and security
Ensure that Adobe Flash, Adobe Reader, and Oracle Java are up to date – over 90% of virus infections happen via outdated versions of these critical software packages
Ensure your system has an active firewall, current anti-virus software, and the latest Microsoft Updates and Patches
Now With Remote Support Capability!
We CANNOT login without you expressly clicking 'OK' when we connect
You will receive 1-2 hours of free remote support per year, depending on your My IT Xpert package. Additional remote support time will be billed at a discounted rate of $59/Hour. You also save 10% on parts AND labor for PC service and repair at our Mebane, NC location for every PC covered by a My ITXpert Plan.
Each Plan Purchase Covers a Single Windows PC (XP/Vista/7/8)
Have Multiple PCs? Save $5/yr/PC for 3+ or $10/yr/PC for 5+
We use Paypal for our service billing and all charges will appear on your statement from 'PayPal'. While you can pay with Visa/Mastercard/Discover, you must have or create a PayPal account to order this service online. If you would rather not use Paypal, call us at 336-525-5005 and we can setup your service and billing directly with a credit card.
Once you purchase the My ITXpert service, we'll send you a link to a small software program called Soluto to install on your PC. This program allows our technicians to remotely monitor and upgrade your system and will send crash notifications back to us. All without having to 'login' to your machine – we can't 'see' anything on it! If you purchase a Pro or Premier package, we will setup a time to install and properly configure the anti-virus and backup software.
When your system boots, you'll now see a helpful timer display showing how long it's taking to boot:
Whenever IT Xpress technicians update your machine, you'll get a helpful 'flying' notification with details about what we did. When applications crash, a crash report is sent to our technicians who can quickly see which applications have been causing you trouble:
By searching the PC Genome database, we can often find solutions to common crashes seen by other Soluto users and fix them for you:
So stop letting your PC frustrate you! It's meant to make your life easier, and with My ITXpert, it can. Let the technicians at IT Xpress worry about your PC's health. It's like having your very own personal IT Xpert!
My ITXpert Service Plans include 1-2 hours of free remote support per year for machines under annual contracts. Additional time is billed at a discounted rate of $59/hour. If you need help with a specific problem, just call us at 336-525-5005 and we'll setup a time to assist you if we can't help you immediately. We cannot always clean viruses off computers remotely with this system. Should your PC get infected, you may need to bring it into our shop for a full cleaning. Pro Plan clients save 50% on virus cleanings while Premier Plan clients get virus cleanings for free. We're that confident in our provided anti-virus and malware software. While the My ITXpert Service can reduce the likelihood of a virus infection by keeping your system and software up to date, infections can still happen due to user error (clicked or installed something by mistake) or recently discovered vulnerabilities.
You can cancel your service at any time and we will not bill you further. Due to upfront licensing costs, we cannot issue prorated refunds. Once you notify us you wish to cancel your service, it will expire at the end of it's term. If you want to terminate the service before your current service expires, simply uninstall the Soluto software or double click the Soluto icon, hover over 'Remote Actions' and click the 'Break Relationship' button.
If you have any questions about My ITXpert, don't hesitate to contact us at [email protected]