Custom Phone Skins
Make your phone stand out with a custom printed skin! Now you can put any picture or design onto the back of your phone. Our custom printing process quickly produces a thin skin print for your phone. Coupled with a clear protective case, your phone will stand out from the crowd!
Don't have a custom design? Select one of our preprinted skins! We have a wide variety of patterns and textures from snake skin, glitter, stone, wood, camo, and more! Applied to your phone in minutes!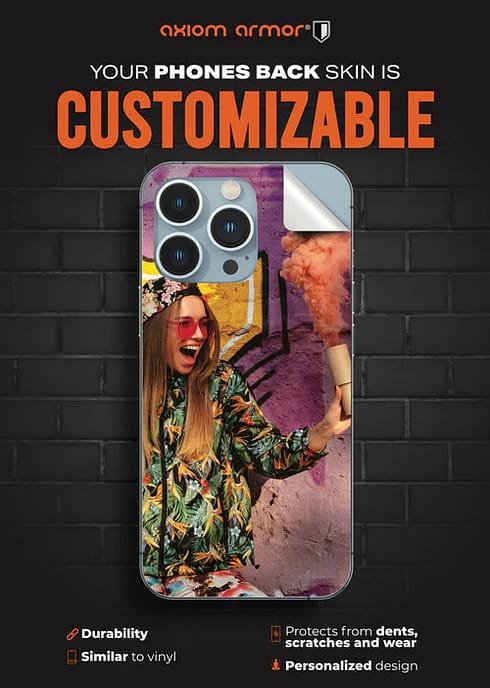 We can also install a new custom cut screen protector while you wait! 
What makes our protectors different? After cutting and installation, the protector goes into a UV curing machine to attain a 9H hardness, just like tempered glass! But the best part is that AxiomGlass™ WILL NOT CRACK like tempered glass. It also has supreme oleophobic fingerprint resistance to keep your device as fingerprint free as possible. Perfect for phones and protects against premature wear, scratches and damage. It is fully compatible with curved screens and in-screen fingerprint readers. AxiomGlass™ is a chemically-enhanced material whose properties include scratch resistance as well as oil and grease resistance and increased toughness. AxiomGlass™ provides great impact protection in an invisible way. It's also nice to the touch and feels like glass, which allows input devices such as Samsung's S-Pen and Apple's Apple Pencil to glide across the surface area without resistance.
Show Off Your Skin!
Memories In The Palm Of Your Hand!