Peripheral Installation and Upgrades

IT Xpress stocks a wide variety of parts and peripherals for your computer and network. We also stock many hard to find cables to get you connected and back online fast. Looking for something we don't have in stock? We can usually get parts here in 2 days. For $9 we can get most parts here next day. Looking for a hard to find part? We source from suppliers all over the world and can navigate the hassles of ordering overseas for you!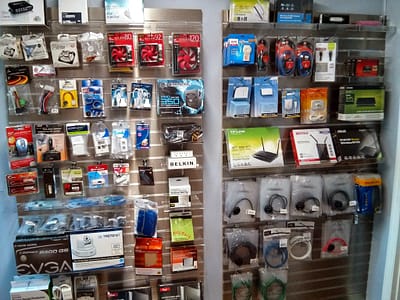 Parts we usually have on hand include:
PC Parts

Video Cards
Hard Drives
Solid State Drives
DVD Drives for desktops and laptops
Memory
Fans (CPU and Chassis)
Desktop and Laptop Power Supplies
Power Cords

 Cables

USB Cables in various lengths and plug configurations
USB to RS-232 Serial Adapter Cables
Heavy Duty HDMI Cables and HDMI to DVI cables
Adapters (HDMI Angled, VGA-DVI, and more)
DisplayPort Cables (Including mini DisplayPort for Macs)
Network Cables from 1f to 100ft (Cat 5e and Cat 6)

Computer Peripherals

LCD Monitors
USB Hubs
External Hard Drives
Flash Drives
SD and microSD Cards
Speakers
Wireless Keyboard and Mice
Network Adapters (Wired and WiFi)

Networking Equipment

Routers
5 Port and 8 Port Network Switches
Smart Switches with VLAN Support
Cable Modems
Wireless (WiFi) Access Points and Range Extenders
Patch Panels
Keystone Jacks and Mounting Boxes

Miscellaneous

TV Wall Mounts
Mouse Pads
Power Strips/Surge Protectors (Power and Network)
PoE Adapters for VoIP
Cellphone Chargers for Home and Auto
Cellphone Charging Cables (iPhone and most Android)
If we install your peripherals for you, we'll ensure your system is running the latest software, using the latest drivers, and with the latest firmware installed on the device.